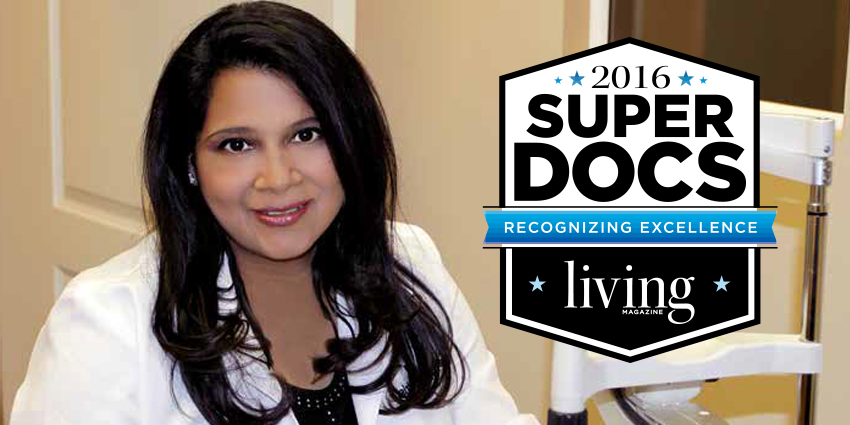 Living Magazine: Recognizing Excellence – 2016 Super Docs award for Dr. Alinah Ali
Visionary Eye Care, an independent, full-scope optometry practice, has been serving the residents of Sugar Land since 2004. Alinah Ali, O.D., and her staff provide quality eye care for the entire family, including comprehensive and diabetic eye exams, same-day services for urgent eye care, pre- and post-op surgical care, and eyewear and contact lens fittings.
The practice focuses on using the most up-to-date technology to thoroughly examine each patient's vision and eye health and to make recommendations for preventative care. In addition to routine eye exams, contact lens evaluation, and a fully stocked eyewear dispensary, Visionary Eye Care also offers pre- and post-operative care for Lasik and Cataract surgery patients.
About Dr. Ali
Dr. Ali is a Therapeutic and Glaucoma certified optometrist. "I am excited to get the opportunity to provide eye care to families in the Sugar Land area," she said. "Here at the office, we make it our mission to remain up-to-date with technology in order to educate our patients in a clear and concise manner. I want to get you seeing clearly and feeling confident in your glasses and/or contact lenses so that you leave with a smile. Ultimately, our vision is to make yours better!" Dr. Ali is a member of the American Optometric Association and Texas Optometric Association and is actively involved within the community.
As a child, by simply putting on a pair of glasses and seeing the instant improvement of her vision, Dr. Ali found herself continuously intrigued by eyes. "The reason I pursued the optometry field was because I loved the idea of helping people with their vision," she said. "Sight is such a crucial part of all our lives and when it isn't working or at its best, it can greatly affect you." Ali's father was also a diabetic, suffering from numerous eye problems including diabetic retinopathy and glaucoma. "This experience really made me want to be someone who could help manage, treat, and preserve the sight of others."
Dr. Ali attended the University of Houston, where she obtained an undergraduate degree in Business Administration and then pursued a Doctorate of Optometry. Prior to becoming an optometrist, she worked as an optician with a local optometry office, where she gained vast experience in the optical industry and had the opportunity to learn more about eye diseases and minor eye procedures.
Dr. Ali currently specializes in eye diseases, including diabetic retinopathy, glaucoma, age-related macular degeneration, and dry eye syndrome. She also offers services for routine eye exams, specialty contact lens fittings, and Lasik and Cataract co-management.
About Visionary Eye Care
Visionary Eye Care offers the best treatment to patients of all ages and conditions. "We have been successful because we specialize in taking genuine care and having concern for every patient, and we continually keep the practice updated by purchasing the latest in diagnostic instrumentation," Dr. Ali said. "This allows us to be able to provide cataract evaluations, diagnose, treat and manage glaucoma and macular degeneration, and determine which treatment options would be most beneficial."
Eyeglasses and contact lenses are also a large part of the services provided. "We fit and provide daily disposables, lenses for astigmatism, extended wear lenses, rigid gas permeable lenses, hybrid contacts, monovision correction, bifocal lenses, and contacts for keratoconus," Dr. Ali continued. "We also offer the highest quality warranted frames and the best lens designs and materials in the industry. The staff who helps design your lens or frame selection has an average experience of more than five years working in our dispensary."
During a comprehensive eye exam, Dr. Ali and her associates use state-of-the-art equipment to check each patient for problems with vision, color vision, responsiveness, peripheral vision, and depth perception. "We make recommendations to address any problems we find, including specialty contact lenses for those who may be classified as hard-to-fit, or vision therapy to address issues with eye tracking. We can also discuss the possibility of corrective surgery to remedy vision deficiencies, considering any health issues which may prevent such surgery."
Giving Back
"We believe that a small business can do big things," Dr. Ali said. "Because we love helping patients daily with their eye care, we want to give back to the less fortunate throughout the year and not just during the holidays." Dr. Ali and her staff sponsor various charities and schools in the surrounding areas, including donating money to the National Honor Society in Richmond, donating eye exams to events hosted by churches, performing vision eye checks at elementary schools, and collecting eyeglasses for the local Lion's Club. "For the younger generation, I enjoy teaching them how to take excellent care of their eyes because we can fix a problem if we catch it early enough. A pair of eyeglasses can truly make a difference for a person in need," she said. "Most of the eye glasses donated to the Lion's Club are distributed to people in need in developing countries where they will have the greatest impact. It is an incredible project and we want to be able to make a difference, one pair of glasses at a time."
The practice, which can cut most prescription glasses in an hour, has also recently donated the time and resources to cut more than 100 pairs of new glasses to send on a mission trip to Mexico. "We want to help others locally, as well as across the globe if we can."
Make Your Appointment Today
Dr. Ali has a true passion for her career and hopes to serve as a role model for the next generation, especially for young girls. "This has really proven to be a great field for me as a woman and now as a mother, and I hope to encourage others to consider optometry as a career," she said.
Visionary Eye Care in Sugar Land offers the best of optometric care, designer eyewear, and contact lenses to fit the needs of each patient. The experienced staff will help select the frame shape, size, and color that looks best on you. Visionary Eye Care participates in most medical and vision insurance plans.
Article by: CLARE HEEKIN LYNCH
Photo credit: KELLEY SWEET